Commercial Roofing Done Right
As a roofing company that serves Champaign County, our reputation precedes us. For over 20 years, customers have placed their trust in Steinmeyer Roofing, INC to handle commercial buildings of all sizes. Our experienced workforce and state-of-the-art equipment help us to deliver the highest standards of service to our customers.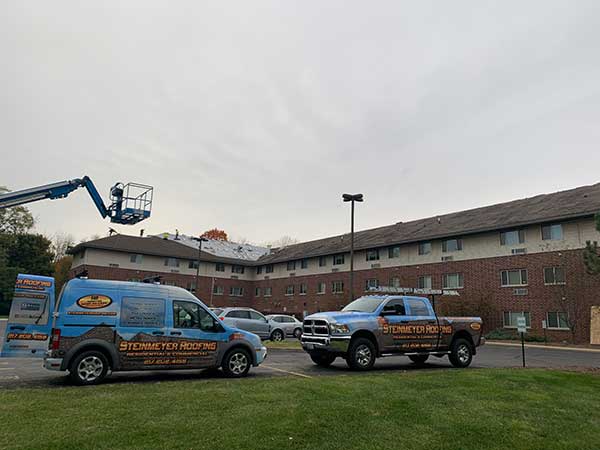 Excellence for Commercial Applications
At Steinmeyer Roofing, we understand that commercial roofing is very different than residential roofing. We employ experts who know the business and how commercial roofs should be handled. We offer a wide variety of commercial roofing systems to fit your needs and budget. Our outstanding reputation with past and current customers makes it easy to add happy new customers to our resume.
Steinmeyer Roofing's services span many types of commercial applications, including:
Asphalt shingles
Solar roofing
Metal roofing
Cedar shakes
Rubber roofing
TPO Roofing
In addition to a wide range of commercial roofing materials, our teams can also install gutters and downspouts, siding and replacement windows.
Great Service With Minimal Downtime
As a building owner or property manager, you need to get your commercial roofing project completed with as little disruption to your operations as possible. Even one day of downtime can result in thousands of dollars in lost revenue and productivity. That's why at Steinmeyer Roofing, we specialize in re-roofing occupied commercial buildings with minimal downtime. Our two decades of expertise allow us to offer you the best and most efficient solutions to your commercial roofing needs.
Talk to Our Experts Today
Big or small, our commercial division is ready and willing to tackle any problem with your business's roofing. Using attention to detail and quality products, Steinmeyer Roofing provides excellence to each and every client we work for. Call us today at (217) 202-4158 or complete our online form for a commercial roofing consultation.