Enjoy the Benefits of Solar Roofing
The cost of energy is continuously rising, which means many homeowners and business owners are searching for a way to reduce their energy consumption and save money. One method is the installation of solar roofing. Solar roofing panels are made of photovoltaic (PV) material that can generate electricity from sunlight.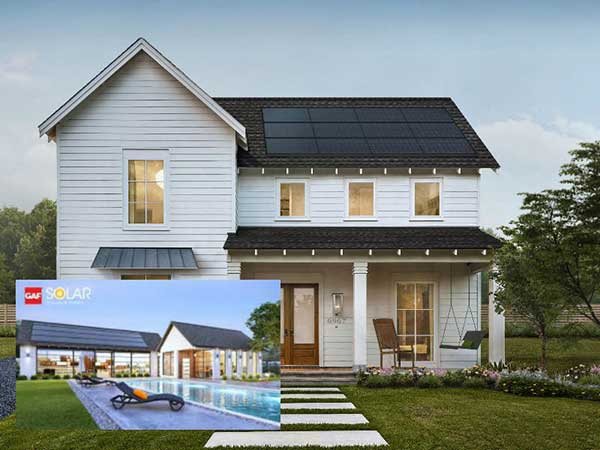 Steinmeyer Roofing, INC specializes in solar roofing and can help you decide if this option is right for you. We recommend solar systems from GAF, the largest and most trusted roofing manufacturer in the United States. Our installations are high-performance, high-output systems and eligible for the same incentives as a traditional solar panel system.
About the GAF DecoTech® System
The GAF DecoTech® System is an elegant, high-performance solar system designed by roofing experts. It features high-output solar panels that operate similarly to and offer the same power as a traditional rack-mounted solar system. However, the DecoTech system incorporates a low-profile solar panel design that is integrated directly into the roof. This means that it produces as much energy as a rack-mounted system but blends into the roof's architecture without the same unsightly appearance.
Affordable – Enjoy the high output of best-in-class panels at a price you can afford.
Integrated – Installation is seamless with an integrated interlocking system.
Beautiful – Low-profile panel styling looks great on any home.
The DecoTech system can last for decades and is engineered with perimeter protection and flashing that stop leaks and make it nearly maintenance-free. Any manufacturing defects are covered by the DecoTech Limited Warranty. If you're interested in this best-in-class solar system, Steinmeyer Roofing can do an on-site evaluation to determine if you are a good candidate for solar.
Would You Like to Learn More?
Steinmeyer Roofing is your source for one-stop installation of a solar roofing system. We would be happy to answer any questions you have and guide you through the installation process. Contact us today for a free quote at (217) 202-4158 or complete our online form to get started.